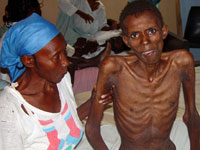 As I read Trent Stamp's most recent blog, I recalled an earlier post from Slate Magazine's Darshak Sanghavi entitled, "Is it cost effective to treat the world's poor?"

(a good read in its own right)

In his blog, Trent Stamp's Take, Mr. Stamp describes how "U.S. lawmakers recently held hearings to announce that foundations need to do a better job of giving funding to people living below the poverty line, especially minorities and those living in rural communities. Some members of Congress even advocated changing the tax code so that only donations to groups that serve the poor were fully tax-deductible. According to our elected leaders, our poor are not being served by foundations and high-end donors who have abandoned them for other causes."

His full post, "We're All to Blame for this Travesty," is well worth your time.

DISCUSSION: What do you think is the best approach to poverty?