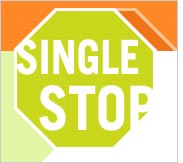 SingleStop USA was called "The Best Poverty-Fighting Bet" by Slate Magazine, which also said that they hosted "the Google IPO event of the nonprofit world" here.
Today, my CEO's blog --
Larry James' Urban Daily
-- addresses an amazing fact that is rarely discussed in our community:
Over 90% of the children in the Dallas ISD live at or below poverty.
Reread that.
There are 160,000 public school students in Dallas. Fewer than 16,000 are not living in poverty.
What can we, as fundraisers, do to address this? By arguing for more funding for our little organization? By shunning collaboration in favor of competitive grant-seeking?
Or should we start to realize that our jobs should not exist?
Should we start to think globally about the fact that we are here to meet needs, but most of us just raise funds to feed those needs rather than kill them forever?
Here is a question for the day:
How much better would your clients be if you could almost guarantee the majority of them an additional $5,000 in income per year?
Think I am dreaming? Perhaps. But take a look at this organization, SingleStop USA:
The Google IPO event of the nonprofit world. - Slate Magazine
SingleStop developed a quick one-stop shop at 59 sites across New York. In 15 minutes, the organization's software tools calculate a family's eligibility for a host of benefits—public assistance ... SingleStop counselors then provide families with tailored legal and financial advice...

The average family in a SingleStop program recouped $1,800 in tax credits and $5,000 in benefits that they weren't previously receiving

For every $1 invested, the program gives clients $3 in benefits, $4 to $13 in legal counseling, $2 in financial counseling, and $11 in tax credits.
This looks like an amazing organization. My hope is that they begin thinking collaboratively about how to work with the rest of us to roll out their product across the country.
Until then, remember that we are NOT marketers: we are not in the business of selling people things. We are in the business of securing and effectively deploying resources to address the root causes of the most intractable problems facing our society.
We are here to close gaps in the system.
We cannot do this by begging for dollars.
We can only do this by fighting for change.